At the end of the day, there are some things you just can't help but talk about. Some things we just don't want to hear, and some things we say because we can't be silent any longer. Some things are more than what you say, they're what you do. Some things you say cause there's no other choice. Some things you keep to yourself. And not too often, but every now and then, some things simply speak for themselves.
Sunday, July 05, 2009
Jeff Dunham is an American ventriloquist and stand-up comedian who has also appeared on numerous television shows, including Star Search, Late Show with David Letterman, Comedy Central Presents and The Tonight Show. He is familiar to Comedy Central audiences for his three specials on that network: Jeff Dunham: Arguing With Myself, Jeff Dunham: Spark of Insanity, and Jeff Dunham's Very Special Christmas Special. His style has been described as "a dressed-down, more digestible version of Don Rickles with multiple personality disorder."


Early life and career


Dunham was born in Dallas, Texas in 1962. He was an only child. He began ventriloquism at age 8. He considers it a learned skill, similar to juggling, that anyone with a normal speaking voice can acquire. Although he graduated from Baylor University in Waco, Texas in 1986, according to Dunham, he never had a "real job."


Dunham appeared in the Broadway show Sugar Babies with Mickey Rooney and Ann Miller in 1985, and at the Westbury Music Fair on Long Island. These early experiences, in which he used characters like José Jalapeño on a Stick, taught him the value of modifying his act regionally, as the jalapeño jokes that worked well in Texas were not as well received by audiences in Long Island.


Dunham made his debut on The Tonight Show with Johnny Carson in 1990. At the end of his act, he was invited to sit on Johnny Carson's couch, considered a mark of approval.
Dunham appeared with Walter in a 1996 episode of Ellen, playing a ventriloquist attending a convention in a hotel meeting room that was also booked for the wedding of Ellen's friend. Dunham also appeared with Walter in a TV commercial for Hertz. His other appearances include 60 Minutes II, Fox Sports Net's The Best Damn Sports Show Period, Hollywood Squares, Entertainment Tonight, Good Morning America and the WB's Blue Collar TV.


On July 18, 2003, Dunham's appeared on Comedy Central Presents, his first solo appearance on Comedy Central. During his half hour piece, he showcased an early version of Melvin the Superhero Guy, Peanut, José Jalapeño on a Stick, and Walter. Dunham's first Comedy Central special, Jeff Dunham: Arguing With Myself, was taped in Santa Ana, California in 2006. His second special Jeff Dunham: Spark of Insanity was taped at the Warner Theater in Washington, D.C. in 2007. It was available at Redbox stands on September 4, 2007, and was released on DVD on September 18, 2007. Jeff Dunham's Very Special Christmas Special was taped at the Pabst Theater in Milwaukee, Wisconsin in 2008, and premiered on Comedy Central on November 16, 2008. It became available on DVD and Blu-Ray on November 18, 2008. The special's premiere was the highest rated telecast in Comedy Central's history.
In addition to these specials, Dunham also released his first music album, Don't Come Home for Christmas, on November 4, 2008.It contains original Christmas songs as well as a parody of "Jingle Bells" by Achmed entitled "Jingle Bombs". All the songs, with the exception of "Jingle Bombs", were written and accompanied by Brian Haner, who has joined Dunham's act as "Guitar Guy". His first onscreen appearance was in Jeff Dunham's Very Special Christmas Special.
In March 2009, Dunham signed a multi-platform deal with Comedy Central which includes an order for a television series, a fourth stand-up special to air in 2010, DVDs, a consumer products partnership and a tour sponsored by the network that will cover 60 different cities.


Critical praise and controversy


In January 2008, Dunham was voted by fans the Top Comic in Comedy Central's "Stand-Up Showdown". He is the only person ever to win the "Ventriloquist of the Year" Award twice, was nominated "Comedian of the Year" by the TNN Music City News Country Awards, and has drawn praise from the Dallas Morning News for his technique and timing.


In 2008 a TV commercial for a ringtone featuring Dunham's character Achmed the Dead Terrorist (see Characters below) was banned by the South African Advertising Standards Authority after a complaint was filed by a citizen stating that the ad was offensive to Muslims, and portrayed all Muslims as terrorists. The ban angered Dunham, who pointed out that "Achmed makes it clear in my act that he is not Muslim." Dunham saw the ban as an infringement on free speech and a double standard, arguing, "I've skewered whites, blacks, Hispanics, Christians, Jews, Muslims, gays, straights, rednecks, addicts, the elderly, and my wife", and joked, "I'm considering renaming Achmed, 'Bill.'"


Source: http://en.wikipedia.org/wiki/Jeff_Dunham



PHOTOS



Jeff with Peanut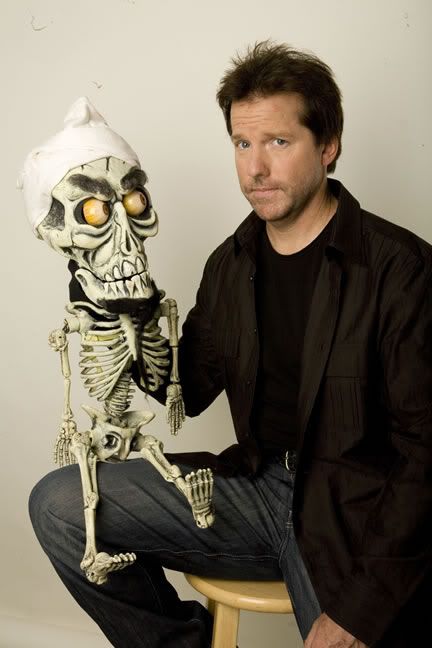 Jeff with Achmed
Characters
Walter
Walter is a retired, grumpy old man with arms always crossed in discontent. He has a brash, negative and often sarcastic view on today's world. He is a Vietnam War veteran and a former welder, and "doesn't give a damn" about anyone, especially his own wife and certain audience members. Walter has appeared in all three Comedy Central specials. He's been married for "46 years" (in 2006), and when Dunham asks him if he remembers the happiest moment of his life, Walter responds, "Yeah, it was forty-seven years ago." Dunham created the Walter puppet himself, including both the initial sculpture and the silicon mold, though he eventually began utilizing professional effects companies for the latter stages with his subsequent puppets.
Peanut
Peanut is a purple-skinned "woozle" with white fur covering most of his body, a tuft of green hair on the top of his head, and one red sneaker on his left foot. Dunham explains in Arguing with Myself that Peanut is from a small Micronesian island, and that they met in Florida. Peanut's humor is not based on a particular motif or stereotype, as those of the other characters, and has been described as a naughty child. He often makes fun of Dunham and torments and mocks José Jalapeño on a Stick. Touching upon his unusual appearance and personality, he asks Dunham in Arguing with Myself, after Dunham denies ever having done drugs, "Then how the hell did you come up with me?"
José Jalapeño on a Stick
José is a talking jalapeño pepper on a stick who wears a small sombrero. José, who speaks with a thick Spanish accent, is typically paired with Peanut, who often makes fun of José, uses appeals to Latino stereotypes when doing so, and makes fun of his being on a stick. Although José was not Dunham's first puppet, it was the first that Dunham made himself.
Bubba J
Bubba J is a beer-drinking redneck that Dunham describes in Arguing with Myself and A Very Special Christmas Special as "white trash trailer park", and uses Bubba J for humor that centers on stereotypes associated with that group. To this end, he frequently does jokes involving Bubba J's love of drinking beer and NASCAR, and his low intelligence. Touching upon such stereotypes, Bubba mentions in Arguing with Myself that he met his wife at a family reunion, and remembers seeing her with a corn dog in one hand, a beer in another, and leaning against a ferris wheel, "making it tilt".
Sweet Daddy Dee
Dunham introduces Sweet Daddy Dee in Arguing with Myself as his "new manager". He calls himself a "pimp", which he says stands for "Player In the Management Profession." According to Sweet Daddy, because he is a pimp, that makes Jeff the ho. When Dunham objects, Daddy Dee points out that Dunham makes people laugh and feel good for a living. When Dunham agrees that this is the case, Daddy Dee says, "You a ho." When Dunham asks what he would say if he told him that he was a comedian only because he enjoyed it, Daddy Dee responds, "You a dumb ho."
Melvin the Superhero Guy
Melvin wears a blue superhero costume, and is used to poke fun at superheroes. When asked about his superhuman powers, he indicates that he has X-ray vision, adding, "I love looking at boobies!" He appears to have no other powers, however: When Dunham asks how far he can fly, he responds, "How far can you throw me?" Dunham portrays Melvin as unimpressed with other superheroes: When told Superman can leap tall buildings in a single bound, Melvin dismisses him as a "showoff" who can simply walk around them, observes that Aquaman has the same powers as Spongebob Squarepants, that the Flash's super speed is derived from methamphetamine, that the Hulk's vaunted ability to get stronger as he gets angrier merely mirrors "every white trash guy on COPS," and makes innuendo about the questionable relationship between Batman and the underage Robin. Melvin's first onscreen appearance was in the July 2003 Comedy Central Presents episode, in which he had small, black, beedy eyes. By his next appearance, in Spark of Insanity, he had been modified to have large, blue, crossed eyes. Dunham sculpted the current version of Melvin's head himself, and hired an effects company called Renegade Effects Groups to create the rubber mold and complete the puppet, before then installing the mechanics himself.
Achmed, the Dead Terrorist
Achmed is the skeletal corpse of an incompetent suicide bomber. He is used by Dunham to perform comedy based on the contemporary issue of terrorism. He is known for yelling, "Silence! I kill you!" to Dunham and people in the audience who laugh at him. Achmed first appeared in Spark of Insanity, and later made an appearance in the Very Special Christmas Special, singing a song called "Jingle Bombs". Most of the humor Dunham expresses with Achmed centers on this motif. When mentioning that Achmed appears to be dead because he's a skeleton, Achmed responds, "It's a flesh wound." When Dunham inquires as to how he died, Achmed explains his incompetence with explosives, while also casting aspersions on Dunham's sexual prowess by saying that they both suffer from "premature detonation." As of June 2009, the sketch in which Dunham introduced Achmed is the fourth most watched online video ever, having amassed nearly 200 million views.
*achmed is the best! lol..my favorite! next will be peanut..
Others
Other characters that Dunham has voiced include a miniature puppet of Peanut's, which turns out to be a small version of Dunham himself, and an unseen worm inside a bottle of tequila, both of which he has used, for example, in his appearance on A&E's An Evening at The Improv.




BLOOPERS






Shared by

Joyce
at 7/05/2009 08:23:00 AM
No comments: